Commercial Treadmill
LDT-918A

Shared Features of Land Fitness Treadmill
1. Modern and Luxurious Appearance
The design of our gym treadmill is inspired by landplane, which features a both luxurious and fashionable appearance. With the melting of the holistic sense and the sense of sculpture, the profile of the treadmill impacts us with a powerful visual contrast. The side of the treadmill is designed with multi-dimensional polygon visual effect, with the polyline split point of golden ratios appears both a powerful and delicate nature.

2. Audio-Visual Enjoyment
For the interface, we have introduced 21.5 inches LED press type screen, which allows users to operate at ease and enjoy the exercise to their content.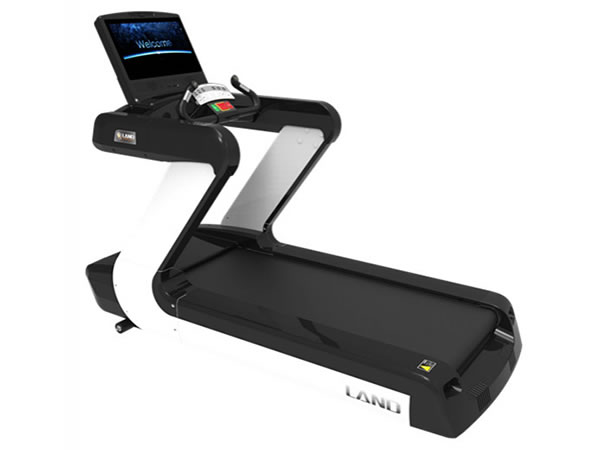 3. Easy-Operated
To let users enjoy the operation convenience to the utmost extent, we have equipped the treadmill cardio equipment with elaborately-designed buttons and ergonomic handles, whose design is inspired by the operating levers of planes.
4. Comfortable Exercise Experience
Users will come to enjoy an extreme comfortable training profess with the high molecular shock absorbing & buffering system and the high density free-maintenance antistatic running board.
5. Smooth Running & High Safety Degree
With the 4HP silent AC motor and the electric inverter form Mitsubishi, the smooth and safety of our treadmill is largely enhanced.
Instructions for Uses
Basic Information
| | |
| --- | --- |
| Display | 21.5in LED touch screen |
| Rated voltage | 220V AC |
| Motor | 3.0HP AC |
| Max power | 6.0HP |
| RPM | 1750RPM |
| Speed | 1-20km/h |
| Max user weight | 200kg |
| Net weight | 235kg |
| Size (mm) | 2160 *1000 *1630 |
| Incline range | 0%-20% |
| Dimension of running board (mm) | T25*1345*690 |
| Dimension of running belt (mm) | T3.2*600*3265 |
| Roller | ¢90*714 |