Commercial Treadmill
LDT-1800B

Basic Information
| | |
| --- | --- |
| Display | 18.5in LED press type screen |
| Rated voltage | 220V AC |
| Motor | 3.0HP AC |
| Max power | 6.0HP |
| RPM | 1750RPM |
| Speed | 1-20km/h |
| Max user weight | 170kg |
| Net weight | 220kg |
| Size (mm) | 2450*1000*1630 |
| Incline range | 0%-20% |
| Running board (mm) | T25 *1620 *680 |
| Running belt (mm) | T3.2 *545 *3775 |
| Roller | ¢88 *575 |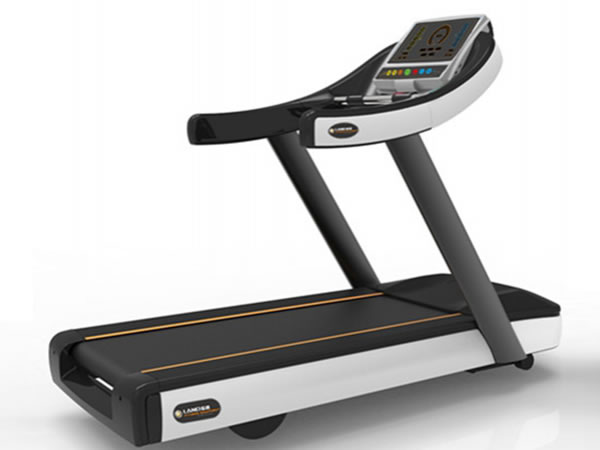 Note
1. The ultimate parameters of this model are subject to the finally confirmed order.
2. This treadmill conforms to the GB17498.1/GB17498.6 Grade S standard (S=studio).
Shared Instructions for Using the Control Panel
A. Key parts and functions
1. Start: come into play
2. Stop: bring to rest
3. Pause: a temporary stop before the next signal
4. Speed-: reducing the speed
5. Speed+: increasing the speed
6. Gradient-: reducing the gradient ratio
7. Gradient+: increasing the gradient ratio
8. Gradient shortcut keys: to choose the gradient quickly (3, 6, 9, 12, 15)
9. Speed shortcut keys: to choose the speed quickly (3, 6, 9, 12, 15)
10. Gradient display window
11. Incline display window
12. Speed display window
13. Distance display window
14. Heart rate display window
15 .Program display window
16. MP3 last song
17. MP3 next song
18. MP3 sound turn up
19. Mp3 sound turn down
20. Program display
B. Program Mode of the Gym Treadmill
1. Press mode buttons to choose from P1, P2, P3, P4, P5, and P6 modes, the time window will show "30:00", "range 5-99 minutes", then press "speed+" or "speed-" to choose the time you want to exercise for.
2. Press start button, and the treadmill cardio exercise equipment will work under the fixed speed. The time window shows the countdown and when there is "0:00", the treadmill will stop automatically.
Fixed Program Table
Time Program
fixed program 30 minutes /16= Number of segment
1
2
3
4
5
6
7
8
9
10
11
12
13
14
15
16
P1
speed
1.0
2.0
3.0
4.0
5.0
6.0
7.0
8.0
8.0
6.0
6.0
5.0
4.0
3.0
2.0
1.0
gradient
0
1
1
1
1
2
2
2
2
3
3
3
3
2
2
1
P2
speed
1.0
2.0
4.0
5.0
8.0
8.0
10.0
10.0
12.0
10.0
10.0
8.0
6.0
4.0
2.0
1.0
gradient
1
2
3
4
4
4
2
4
4
4
2
2
3
2
2
1
P3
speed
1.0
4.0
8.0
6.0
4.0
2.0
4.0
6.0
8.0
6.0
4.0
2.0
4.0
7.0
4.0
2.0
gradient
1
2
3
4
5
3
5
4
3
2
1